Welcome to my first Holiday Gift Guide! I'm trying this out in an effort to showcase some of the products I love and the art that tickles my fancy. You'll find some ideas for the cyclist(s), the pet(s), the F1 fan(s), and the geometric-pattern lover(s) in your life.
This isn't just a string of products I think you should buy. Even if none of these items spark a gift purchase, I hope it inspires you to search for other items on sites like Competitive Cyclist, Backcountry.com, and Etsy. 
There are affiliate links to my suggestions from Competitive Cyclist and Backcountry.com listed below. If you make a purchase using my links, I will receive a small commission from these brands. Doing so helps me continue to pursue bike racing goals and adventures. I absolutely love these two companies and would be so grateful if you made holiday purchases through them because they support my endeavors. I have been a retail buyer from Backcountry since 2014 because they have always had the gear I need for adventures! I have no affiliation with Etsy other than it always delivers when I'm searching for thoughtful gifts for friends and family : ) 
 Love,
🐼
Socks
Obviously we'll start here. Get all my socks on the home page! 
If you are reading this gift guide, use code NOV21 for 40% off and help me clear out some space for next year's designs! Discount only works at https://tuff.af/.
Get #PandaPower 2.0 socks here direct from Sockguy.
Niner Bikes
All of my bike riding wouldn't be possible without Niner Bikes. I won my second Dirty Kanza (Unbound) in 2016 on the BSB 9 RDO 'cross frame and have won many UCI races on that tried and true frame as well. I bought all my original Niner frames because it was a brand I believed in and knew the sizing was made for a shorter person like me. Don't think I'm suggesting this brand because I have to. I spent my own money on their frames from day one and that led to a sponsorship much further down the road. I'm very loyal because I love the company and the people behind the bikes. 
When Niner came out with the RLT 9 RDO gravel frame, it was the natural evolution and I absolutely love the versatility of the frame. Bike pack, ride/race gravel, ride/race pavement, explore, get lost, whatever your heart desires, this frame can help you achieve that. It's the go-anywhere, do-anything bike and fits up to a 50c tire. I mean, come on! 
Don't forget the extra fun bikes and Niners' OG discipline, the mountain bikes! Competitive Cyclist actually carries complete bikes and frames from Niner and I'm so thrilled to offer this option in a way that also shows them a ROI on my sponsorship. 
I get asked all the time about my bottle-cap top, and you can find that here on Niner's site. It's only $13! YAWYD. You are what you drink.
Shimano GRX 
You may have seen my Instagram story from the end of October where I compared both GRX rear derailleurs. You can still view the slides in my Highlights and take a look at my two 'cross bike set-ups a bit closer! 
Competitive Cyclist has GRX Components in addition to some of the GRX-spec'd bikes above. Do a quick search for GRX and check out the available options. 
SDG Components Allure Saddle
While originally designed as a women's specific saddle, the full cut-out provides soft tissue relief no matter who you are. I've seen this saddle work for so many different people and if you're struggling with pain down there, I recommend you start testing out different options and this is a great place to start. I rode the Allure for so many years and SDG is one of my OG Sponsors. 
Kali Protectives
You can't go wrong with the Maya for a light, sturdy Mountain Bike helmet. If you like a visor, this can also work for any discipline! I see the Uno as a simpler version of the Grit. It works on the road or dirt and I really like the clean lines it has when it sits on the head. Fun fact: Kali has been a sponsor since day one for me!
Endura
I've recently been throwing these baggies over my bibs more frequently. They're great for mountain biking, but I've found they're also great as a wind breaker. I've done a few chilly rides on gravel where having these over my bibs keeps me warm without needing full tights!
Orange Seal
I don't need to say that tubeless is a requirement. You should know that by now. A gift that keeps some peace of mind is the ORANGE SEAL Versa Valve Tubeless Valve Stem. You can never have too many extra stems, and there are multiple sizes depending on the depth of your wheels. In my experience, it's always safe to order the long ones so they'll be compatible with most all rim depths. 
Hammerhead
Hammerhead is a new sponsor for me this year. I was very hesitant about taking the time to learn a new system, but it's been very rewarding. I promise the time it will take to get acquainted with the device is worth it for the navigation and Climber feature alone! If you have any questions, I'm happy to help with onboarding the new system and giving you some tips. 
PRO Bar Tape
PRO Components have a lot of great cockpit options online, but I always feel like that set-up is based on personal preference. If you want to go for a safe gift option for the touch points, one way to spruce up the handlebars is with new PRO tape.  You can't go wrong with the geometric patterns on the gravel comfort tape and the sparkly Aurora color here is just to die for. 
Daniel Ricciardo Merch
The RIC3 Speedway collection has arrived and I absolutely love these designs. The Enchanté collection was alright, but the Speedway pieces just scream Danny Ric and I'm here for it. Can you imagine running into another DR fan in real life wearing matching tees? It me. Let's do it. 
McLaren Merch
Whether you're a Lando fan or Daniel fan, the McLaren store has a lot of fun merch. I have this mint shirt and a performance tee for running. I have totally geeked out on being a fan girl for F1. Ball sports be damned, I can't get into them. F1 forever. 
Wide Angle Podium Merch
Support the network behind Groadio, the Wide Angle Podium! They have some great merch up on the site, including the SlowRidePod's SRP300 shirts. These pieces were commissioned by artists and the designs are worth looking at. Above is a shirt on sale for $10!
Patagonia Performance Underwear
Performance underwear for hiking, climbing, or exploring. I'm not one to spend a lot on under garments, but the Active-labeled underwear that Patagonia makes for women is great. 
Grangers Active Wash
Grangers Active Wash is a high-performance cleaning solution for sportswear, activewear, and outdoor clothing. Until Grangers is available at Backcountry.com, you can find this Active Wash here or search for it with google shopping. If you want to test out the detergent before buying the large bottle, shoot me a note and I'll send you a little sample!
This detergent will leave your advanced fabric clothing feeling clean and free of any lingering odors. Trust me, this was life-changing for my cycling kits. It's specially formulated to head straight to the bacteria that causes odors to linger and it works. Honestly, I use it for ALL my laundry loads now whether or not there's activewear in the mix.
Raised Dog Bowl Stand by WoodlandSteelworks on Etsy
I ordered a different bowl stand for Walter from WoodlandSteelworks last year and just recently fell in love with this Yeti-specific one they make now.  They even have a buy one get one 1/2 off. Coupon code: BOGOBOWL.
The stand does NOT come with the bowl, so grab the bowl from Backcountry.com below. The Boomer 4 is 6.75 x 3.125in  and the Boomer 8 is 3.5 x 8in. 
Very Good Dog Cage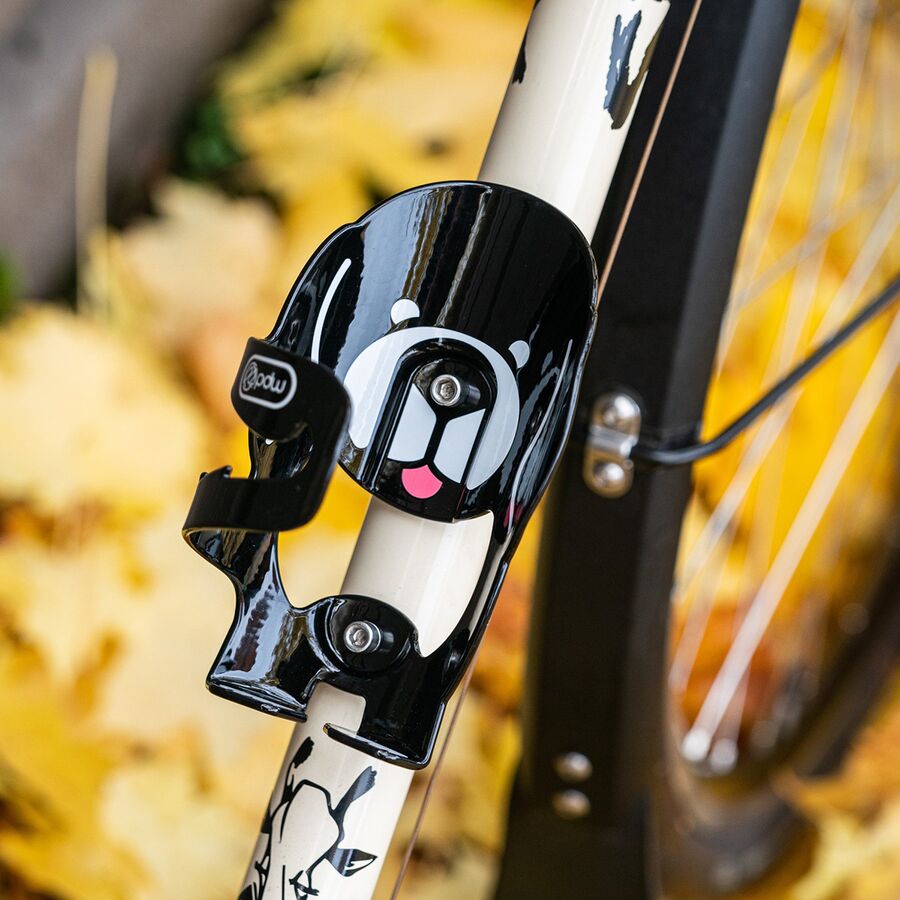 A water bottle cage of a very good doggo. Portland Design Works donates 10% of profits from purchasing this cage to animal advocacy organizations that help dogs in need. You know that's a great reason to get one.
Bamboo Charcoal Dental Floss
Vegan Biodegradable Bamboo Charcoal Dental Floss with Refillable Bamboo Container. This is solid stocking stuffer. Dave's mom always gets us toiletry items as stocking stuffers so this is where my head went. The MOTHER EARTH brand donates 10% of their profits to ocean and environmental conservation. I purchased this on amazon in early May and still haven't run out while flossing every night. 
Dakota's Yosemite Magic 2022 Calendar
Support Yosemite and my friend, Dakota Snider, by shopping the Yosemite Conservancy store. Your purchases help fund important work in Yosemite, to repair trails, restore habitat, protect wildlife, etc. Dakota provides fresh takes on Park icons including Half Dome, El Capitan, Tuolumne Meadows, and more. A beautiful piece to put on the wall!
Houston Pottery on Etsy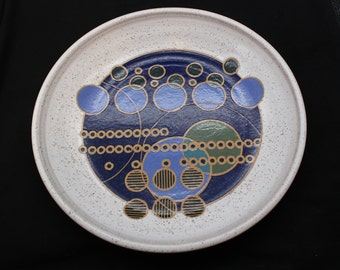 I love a geometric pattern and stumbled upon John Houston's pottery on Etsy. This is a recommendation solely on the basis that I am obsessed with the designs. John notes, "glaze designs are influenced by my observations in nature as well as Art Deco and Prairie Style pionered by Frank Lloyd Wright" and I am here for it.
Fireclay Tile
Obsessed. Block Shop x Fireclay Tile is a collaboration between two California Makers inspired by the creative spirits of women artists who helped pave the way for today's modern visual culture. Fireclay Tile also has a ton of other designs that I'd love to design a home space around. Read about the Block Shop x Fireclay Tile Handpainted Collection here. You can order these as a set of coasters for a great gift!
Thomas Lateur on Etsy
I love the colors that Thomas works with. He has great A4 prints of his illustrations on Etsy. 
California Contempora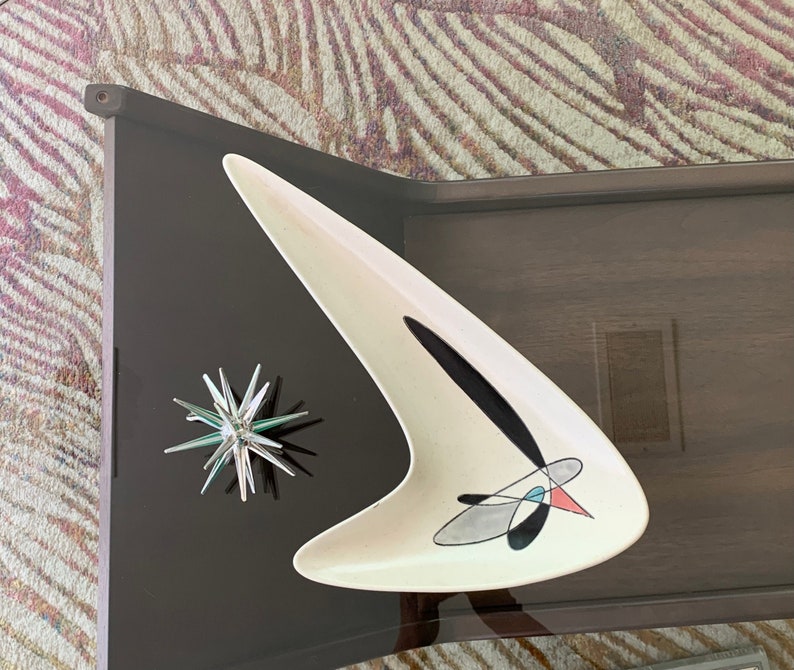 I can gravitate toward an atomic style, so the California Contempora by Metlox pieces have always grabbed my attention. I have one of these Boomerang Jawbone Dishes in my house right now. California Mobile by Metlox and California Free Form by Metlox are also great. It's a cool thing to start collecting if you're into that sort of hobby.
Mercury Mosaics
Mercury Mosaics makes handmade tiles produced in a factory in Minneapolis, Minnesota. I enjoy a good Moroccan Fish Scale and this color combination is so unique. If you're wondering how this is a gift, you can use them as coasters and order the sample packs. 
Taos Bakes
I'm not one to get stuck on ride food ideas. I'm constantly bringing new nutrition with me on rides to find stuff I like and will want to eat. My most recent find that I can't get enough of is the PB CHOCOLATE + BUTTERSCOTCH bar from Taos Bakes. I can't tell you about any of the other flavors because this one is all that matters. I will eat one at my desk while working, they're that good. While you're there, the Citrus Glazed Pecans are excellent, too. I found a 30% off code that works, probably from an ambassador deal: ERIN30. Thanks to Nichole Baker for introducing me to this company when she did a fundraiser for Path of Logic with them. 
GCI Outdoor
If you want to spend more time outdoors in 2022, take a peak at the tables and chairs that GCI Outdoor makes! "Think Outside" isn't just a tagline – it's how memories are made.
Donation
We adopted Walter White from The Little Red Dog. If you're looking for a charitable place to donate, I would appreciate some money back to the place that rescued our boy. They are a 501c3 Nonprofit Organization based in OC rescuing all breeds from high kill shelters & off the streets. 
Here are a few banner ads with discounts that may interest you:
🐼
🐼
🐼
🐼
🐼
🐼
🐼